Sherwood shooting: 'Group gathered' prior to death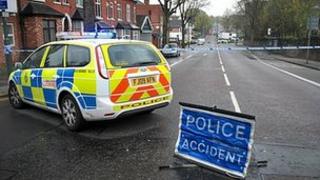 The people responsible for the fatal shooting of a Nottingham teenager may have gathered 10 to 15 minutes before the attack, police have said.
Malakai McKenzie, 19, died in the early hours of Saturday, after being injured at The Hubb pub in Sherwood.
Police asked anyone who saw a group getting in and out of cars in the area at about 03:15 BST to contact them.
A 19-year-old man and 17-year-old boy, arrested in connection with the murder, have been released on bail.
Det Chf Insp Tony Heydon said: "We believe that more than one person was involved in Malakai's murder and we have a large team of detectives working to identify the suspects.
"It is thought the offenders may have gathered in and around the area, talking to each other and getting in and out of vehicles 10 or 15 minutes before heading to The Hubb during the early hours of Saturday morning."
He added: "We are also appealing for information about the vehicle or vehicles that the suspects may have got into after leaving the scene."