'Greedy' former union leader Neil Greatrex jailed for theft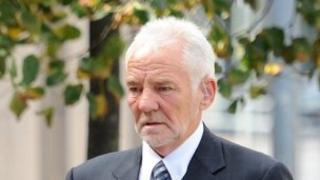 A former union leader has been jailed for four years for stealing almost £150,000 from a miners' charity.
Neil Greatrex, 61, a former Union of Democratic Mineworkers (UDM) president, was found guilty of stealing from Nottinghamshire Miners Charity, which ran a Lincolnshire care home.
Birmingham Crown Court heard the thefts took place between 2000 and 2006.
Judge John Wait said Greatrex, who spent £11,750 on a kitchen, was guilty of "sophisticated greed".
Home improvements
A jury at Nottingham Crown Court found him guilty of 14 counts of theft on 3 April following a two-week trial.
UDM general secretary Mick Stevens, 60, was cleared of all 14 counts of theft at the same hearing.
The miners' charity ran the Phoenix Care Home in Chapel St Leonards, Lincolnshire.
The jury heard Greatrex, from Stanley, near Teversal, Nottinghamshire, billed the charity for £148,628 for alleged improvement work which was actually being done on his and Mr Stevens' properties.
Greatrex told the court that he had billed the care home for a new kitchen for his own house, but that the money was taken in lieu of a salary.
"I believed I was entitled to a reasonable salary and expenses from the home for the work that I was doing for it," he said.
But Judge Wait, who heard that Greatrex was earning a salary of £67,000 in 1987, told the disgraced union official: "As a trustee of the charity you were not entitled to profit from your role.
"You saw an opportunity to make personal profit at the expense of those less fortunate than yourself whose interest you had agreed as trustee to protect.
"Over the years you wanted works done at your own home and the home of your co-director - outside paving, a new kitchen, new windows and doors, many supplies of building materials.
"Works and materials that with the salary you were paid you could have afforded. This was calculated and dishonest greed."
Greatrex spent more than 20 years in the National Union of Mineworkers before forming the UDM in 1985.
He became a controversial figure for speaking out against NUM president Arthur Scargill's tactics in the 1985 strikes.