Nottingham tobacco workers in protest over parking levy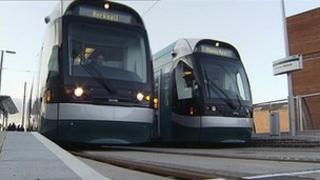 Staff at a Nottingham tobacco firm have become the first workforce to take industrial action over the city's new Workplace Parking Levy.
GMB and Unite union members at Imperial Tobacco are starting a week's overtime ban in protest at the firm's decision to pass on part of the cost to workers.
The union claims the firm could easily afford to foot the whole bill for the levy, which is £288 a year per space.
Imperial Tobacco said it did not expect the action to cause much disruption.
Nottingham City Council introduced the levy to pay for transport improvements, including the extension of Nottingham's tram network.
'Share burden'
The action over the levy, being staged in conjunction with an ongoing work-to-rule policy, was announced earlier this month.
GMB regional officer Chris Needham said the firm wanted employees to pay between £125 and £192 a year towards the levy.
He said: "It's outrageous that a company that makes £608m profit cannot even consider putting forward support to their workers over this levy."
Unite spokesman Jenny Formby said the company had so far refused to discuss the issue or refer it to mediation.
Unite represents 350 workers at the factory and the GMB has about 150 members at the site.
Imperial Tobacco has said it was "taking a reasonable and responsible approach by proposing to share the cost burden with its employees".
Councillor Jane Urquhart, who is in charge of transport, said the authority expected to meet its income target over the 23-year period of the levy, generating an average of £14m a year.