Webcam turned off as peregrine falcon chicks die in Nottingham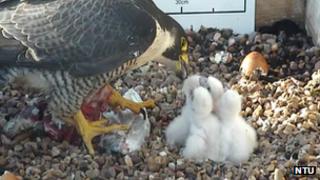 A live webcam feed of a family of peregrine falcons was turned off temporarily after two chicks died and the father went missing.
Thousands watched last week as four birds hatched on the roof of Nottingham Trent University's Newton Building.
Nottinghamshire Wildlife Trust said the bad weather probably led to the chicks' deaths and the male's disappearance.
The trust said the camera was turned off in the interests of children but has now been turned on again.
Erin McDaid, from Nottinghamshire Wildlife Trust, said: "There's one reasonably healthy chick and one that looks as though it's alive [which] is surprisingly good news because I did fear the worst with the terrible weather."
He added that the father had not been back with any food all day on Sunday, and the whole clutch could be lost if he fails to return.
In the six weeks since the webcams went up on the Newton Building, more than 260,000 people have watched the peregrines nesting, the trust said.
There are estimated to be 1,402 breeding pairs of peregrine falcons in the UK, according to the RSPB.
The birds are a protected species by European and national law.