'Racists want mayor' flyer in Nottingham sparks complaint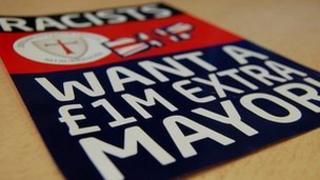 A formal complaint has been made after opponents of a directly elected mayor in Nottingham issued a leaflet stating "Racists want a £1m extra mayor".
The Yes campaign branded the move scaremongering and has sent a complaint to the national Labour party.
But leader of Labour-run Nottingham City Council Jon Collins, a No supporter, said while the wording was undiplomatic the message was justified.
Nottingham is one of 10 English cities to have a mayoral referendum on 3 May.
'Important issue'
The Yes vote group said the leaflet, which features the logos of the British National Party (BNP) and English Defence League (EDL), was misleading as the EDL was not a political party and the BNP was not campaigning in the referendum.
Jo Tanner, director of the campaign for directly elected mayors and Labour party member, made the complaint.
She said: "The leaflet does the members of the Nottingham Labour party a great disservice. I'm pretty sure this is the work of a very small minority of the party who are looking after vested interests.
"It is not in the best interests of the Labour party.
"From looking at the political map, Labour does very well in Nottingham, so to go for this sort of tactic does them no service at all."
Mr Collins said the leaflet was "factual" and "raised an important issue".
'Best effect'
He added: "It is [the] nature of the electoral system under the proposed changes for a directly elected mayor.
"If you look at the impact it had in Stoke and the situation in Doncaster, I think you can see that change in itself provides a platform for extremists."
Mr Collins also defended reports the leaflets had only been handed out near mosques.
"We have a limited number of people out there distributing material and we have to make sure the material we have is used to the best effect," he said.
The national Labour party has not commented.