Third Nottingham webcam falcon chick dies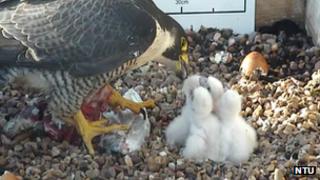 A third chick from a family of peregrine falcons being watched by thousands on a webcam has died.
There is now just one chick left on the roof of Nottingham Trent University's Newton Building.
Two others died at the weekend when the brood's father, who had been bringing food, disappeared for a day.
He has since returned - but a spokesman for Nottinghamshire Wildlife Trust said the bad weather and his disappearance probably led to the chicks' deaths.
The mother had been trying to keep the chicks warm in the cold and wet and also left the nest on occasions to bring food - leaving the chicks exposed to the weather.
In the six weeks since the webcams went up on the Newton Building, more than 260,000 people have watched the peregrines nesting, the wildlife trust said.
But the live feed was turned off temporarily after the first two chicks died.
Erin McDaid, from Nottinghamshire Wildlife Trust, said: "Sadly another one died after the weekend, now we've only got one chick left.
"It was the same problem that perished the other two, it got very cold and wet over the weekend and the chick probably hadn't fed very much and wasn't strong enough to survive.
"Even when the male returned and feeding got back to normal, the chick wasn't really begging for food sufficiently.
"The stronger chick then started getting most of the food so sadly the third passed away as well."
Peregrine Falcons have nested on the building's roof for the past 10 years.
The four chicks had hatched on 26 April - earlier than previous years because of the warm weather.
However, Mr McDaid was hopeful the fourth peregrine falcon chick would survive because the "feeding is back to normal and it's getting more attention".
He added: "But the chick is still very young and when both parents are away from the nest it hasn't got its siblings to help keep it warm so we still have some worries at the back of our minds."
Mr McDaid added that although the camera was turned off when the chicks perished, it would now remain live.
"It definitely made harsh viewing but a real privilege to watch the natural occurrence," he said.