Middleton Primary dog-owners in school run row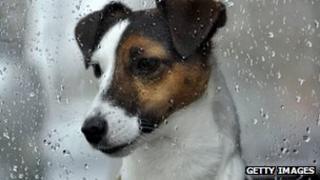 Dog-owning parents at a Nottingham school have complained after being asked to leave their pets at home while picking up their children.
Middleton Primary School in Wollaton made the request following complaints pupils felt intimidated by dogs tied-up close to the entrance.
It also said a staff member had been bitten by a dog outside the school.
However some parents have accused the school of being unreasonable and urged it to withdraw the request.
Dog-owner Rosa Windsor said: "I'm ignoring it. I don't think they have any right to tell us where to walk our dogs.
'Part of family'
"As working parents with children, this is the only time we can fit it in. I think it's totally unreasonable and nothing to do with them."
Another parent, Lisa Eaton, said: "I want them to rethink it and I want an apology in writing. These are our pets - they are part of our family."
The school said the "polite request", included in its most recent newsletter, would not be enforced but had been made to help ensure the health and safety of pupils.
Head teacher Claire Sadler Penn said: "Historically we had a number of parents and children expressing their concerns about dogs being tied to the school gates and left unsupervised.
"The children's health and safety is always our main priority and following an incident where a member of staff was bitten by a dog, we have asked parents to reconsider leaving their dogs tied up to minimise the risk to our children."