East Midlands aid charity sends fifth shipment to Syria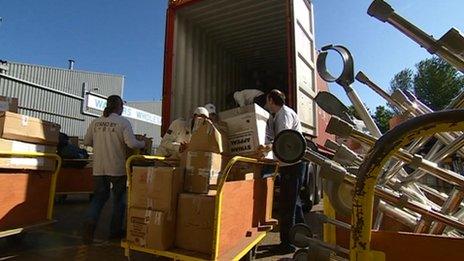 A shipment of medical and humanitarian aid has left the Nottingham depot of the charity Hand in Hand for Syria.
The charity, run by volunteers from across the UK, is sending it to cities which have seen the most violence during the anti-government uprising.
Faddy Sahloul, chairman of Hand in Hand for Syria (HIHFS), said: "Charities are really struggling to reach the most affected families inside Syria."
He said the charity used aid workers inside Syria to reach those worst hit.
The aid shipment, worth an estimated £30,000, includes stretchers and operating tables, as well as food and clothing for cities such as Homs, Idlib and Deraa.
The most recent container, which was sent by sea to Tripoli, in Lebanon, and then by road to Syria, is the fifth shipment sent by HIHFS since the conflict began 15 months ago.
A charity spokesman said it had raised about £100,000 so far in cash donations to buy food and aid in Syria.
It has also recently purchased an unmarked civilian ambulance which is now active at the field hospital in Homs.
"They still desperately need equipment, food and medicine - the ceasefire seems to be on the verge of breakdown and the situation is still very fragile over there," the spokesman said.
Syria's uprising began as a peaceful pro-democracy movement in March 2011, but a government crackdown moved quickly to stop the protests.
The UN says at least 9,000 people have died since uprising began.
An NHS doctor from Birmingham, who recently returned from volunteering at a field hospital in Homs, said there was still a "desperate need" for medical supplies in the country.
The doctor, who asked to remain anonymous, added: "People desperately need medical treatment but it's just not safe to go to any of the general hospitals.
"In some areas around Homs there simply aren't any medical facilities left - the hospitals have been turned into military bases and most pharmacies have closed down."
The charity has also helped arrange for several others doctors from Leicester and Nottingham to travel to Syria to treat people wounded in the conflict.
Related Internet Links
The BBC is not responsible for the content of external sites.