Shortwood mine plan consultation period extended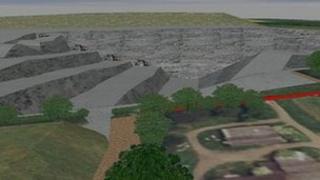 A consultation over a proposed opencast mine in Nottinghamshire has been extended.
In April, UK Coal submitted plans to extract 1.275m tonnes of coal from the 130-hectare (322 acre) site at Shortwood Farm in Cossall.
Some villagers have opposed any mining in the area since the idea was first put forward in 1990.
The county council said it had extended the consultation until the end of June so campaigners could study the plans.
If approved, work at the site would last for five years and seven months.
Farmland restored
The extracted coal, along with fireclay, would be transported from the site via the A609, A6002, A610 and on to the M1.
Opponents claim the traffic would cause congestion and the mine would wreck the countryside.
Some had complained the original consultation did not allow enough time to examine the plans in detail.
UK Coal said environmental concerns were at the heart of its proposals and the area would be restored to farmland afterwards.