Nottingham cystic fibrosis unit gets £700,000 donation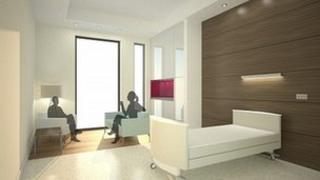 A Nottingham charity has welcomed a major donation towards a new £6.6m cystic fibrosis centre.
The Wolfson Foundation has pledged £700,000, which almost completes the Nottingham Hospitals Charity's £2.1m part of the funding package thanks to other funding raised.
The centre, at the City Hospital, helps make extended stays more comfortable.
A charity spokesman said the donation underlined the project's importance to patient wellbeing.
The rest of the funding to make up the final cost of £6.6m will come directly from the NHS.
The new centre, which aims to treat 250 patients each year, is intended to create a more homely environment.
It will include video phones so patients can speak to each other without the risk of infection and a specially designed outdoor exercise area.
Building work is due to start this year, with work estimated to take approximately one year.
Cystic fibrosis is a genetic disorder which causes thick secretions in the lungs, inhibiting breathing.