RAF hero Edward Donald Parker's medals sold for £24,000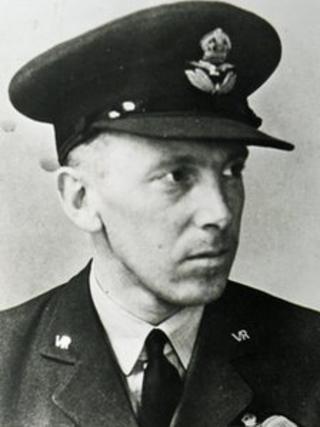 War medals awarded to an RAF pilot from Nottingham who died during World War II have been auctioned for almost £24,000.
Sqn Ldr Edward Donald Parker, from West Bridgford, was given the George Cross and Distinguished Flying Cross for acts of gallantry during the conflict.
He won particular praise for saving the life of a fellow crewman after their Hampden bomber crashed in 1940.
A fine art director, from Halls auction house in Shrewsbury, said the hero's six medals were sold for £23,750.
Jeremy Lamond said the medals, including the 1939-45 Star, Air Crew Europe Star, Defence Medal and the War Medal, were a "piece of all our history".
"People don't destroy these medals, they are things sometimes collectors give back to the nation, they go back to museums," he said.
Mr Lamond added the medals were sold for a lot of money because of the story behind the person who won them.
In August 1940, Sqn Ldr Parker was forced to crash land a Hampden bomber carrying four 500lb bombs shortly after take-off from RAF Scampton.
He returned to a burning wreckage of their bomber to save the life of his navigator.
For the act of bravery he was awarded the George Cross.
Sqn Ldr Parker, born in 1910, completed dozens of operational flights against the Germans as part of the Royal Air Force Volunteer Reserve.
Also in 1940, he was awarded the Distinguished Flying Cross for completing 43 operational flights against the enemy.
The veteran was killed in action flying a Lancaster bomber over Berlin in January 1943 and was buried in the city's 1939-1945 War Cemetery.