Darren James jailed for explosives find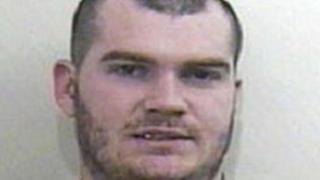 A 26-year-old Nottingham man has been jailed for 15 years after he admitted possessing explosives.
Nottingham Crown Court was told it was "not clear" what Darren James' motive was.
Officers were called to Mapperley, in Nottingham, in October 2011 after nitroglycerine was found there.
James, of Central Avenue, Mapperley, was sentenced to six years for explosives charges and nine years for burglary and possession of weapons.
The sentences are to run consecutively.
The court was told that a controlled explosion was carried out and nearby homes were evacuated after officers discovered the exploisives.
'Axes and knives'
James pleaded guilty in March to making an explosive substance for no legal purpose, possessing a shotgun and two high-powered air rifles and possession of prohibited ammunition.
In an earlier hearing, the court was told James was "a loner and an eccentric".
"There was no intent here, no plan for the nitroglycerine to be used in any particular way," his counsel Steven Gosnell told the court.
The court heard James had stolen axes, knives and camping equipment from a store last June.
Det Ch Insp Melanie Bowden said the chemicals were found after James' flat was searched following a tip-off about a car theft.
"It is still not clear what James's motive was for possessing or making nitroglycerine," she said.
"Naturally, we have explored the possibility that he may have been intending to use them to harm other people or to engage in some form of violent extremism, but we have found no evidence to suggest that he planned to do either of those things.
"James had stored these chemicals in a flat in a busy, residential area and there is no knowing what might have happened had they been ignited, either accidentally or deliberately."