Andrew Kemp stabbed girlfriend Leighann Wightman 'in jealous rage'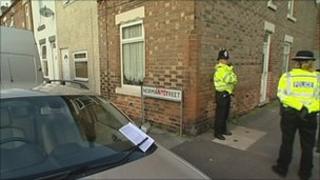 A man repeatedly stabbed his young girlfriend to death in a jealous rage after she sent flirtatious texts to his friend, a court has heard.
Andrew Kemp, 48, offered to plead guilty to the manslaughter of Leighann Wightman, 24, but denied her murder.
Nottingham Crown Court heard that Kemp, of Vale Road, Colwick, had been given a restraining order after assaulting Ms Wightman months before her death.
However, both of them ignored the order and stayed in regular contact.
William Harbage, prosecuting, said Kemp had "savagely stabbed" Ms Wightman eight times in her home with a large kitchen knife.
'Besotted' with victim
Jurors heard that the killing happened between 01:28 and 01:42 BST on 15 October.
Kemp had been out drinking in West Bridgford with a friend called Lee Brown.
Mr Brown showed Kemp a text message which he had received from Ms Wightman, in which she asked him "Are you free?" and suggested "We could do something".
Mr Harbage said: "We, the prosecution, say he [Kemp] was besotted with Leighann Wightman.
"We say he was jealous when he saw those texts.
"That jealousy, anger and resentment simmered for the rest of the evening."
'Rejected advances'
The court heard that Kemp went to a pub in Mapperley and started dancing with two women he met.
He went with them to a nightclub and made advances to one but these were rejected, the court heard.
He then went to Ms Wightman's house in Norman Street, Netherfield.
Neighbours heard screaming and Ms Wightman shouting "Get off me" at least twice, Mr Harbage said.
Kemp claims that Ms Wightman tried to stab him first, and he was frightened and lost control.
The prosecution do not accept this defence and did not accept his plea of guilty to manslaughter.
The trial continues.