Nottingham Jubilee visit: Queen's itinerary released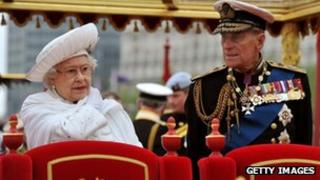 Details have been revealed of when and where people can see the Queen when she visits Nottingham on Wednesday.
The Duke and Duchess of Cambridge will accompany the Queen when she visits the city as part of her Diamond Jubilee tour.
The royal party is expected to arrive in the Old Market Square at 10:10 BST and greet the crowds before going into the Council House.
They are due to arrive at Vernon Park, in the Basford area, at 11:00 BST.
Councillor Jon Collins, leader of Nottingham City Council, said: "I'm sure that local people will give the royal party a warm welcome and will be excited about getting the chance to also see the Duke and Duchess of Cambridge as part of the Diamond Jubilee celebrations.
"As the capital of the East Midlands, it's great Nottingham's playing host to this royal visit."
It had been planned for the Duke of Edinburgh to visit Nottingham as well, but he has been in hospital with a bladder infection.
Transport affected
BBC royal correspondent Peter Hunt said the royals and their advisers would have to decide what, if any, changes need to be made to the Queen's outstanding programme of Jubilee events and whether the duke was well enough to attend.
The Queen will travel to Nottingham by train, and is due to arrive at the railway station at 10:05 BST, where she will be met by Prince William and Catherine.
They will travel to the Old Market Square by car, where the convoy will travel along Middle Pavement, Albert Street and Wheeler Gate, entering the square near the fountains.
After greeting the crowds, the royals will go into the Council House to meet the Lords Lieutenant of Nottinghamshire and Derbyshire and other invited guests.
The royal party will appear on the Council House balcony to acknowledge the crowd while the national anthem is played.
They will leave by car at about 10:55 BST, where spectators can see them on Queen Street and Upper Parliament Street.
The Queen will then unveil a plaque at Vernon Park, which has been granted Queen Elizabeth II Fields in Trust status.
Members of the public can arrive at the park from 08:30 BST, and there will be sporting and musical performances from 10:00 to 14:00 BST.
Many roads in Nottingham will be closed because of the visit and bus services will be significantly affected.
Between 05:00 BST and 12:00 BST trams will terminate at the Royal Centre stop instead of at the railway station.