Nottingham disturbances: Five jailed after city rampage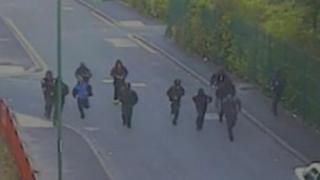 Five men who pelted police with bricks and damaged cars during disturbances in Nottingham have been jailed.
The men, aged between 19 and 23, were part of a larger group which rampaged through the city after setting off from St Ann's on 9 August.
The disorder ended with a stand-off with police on the roof of a school.
At Nottingham Crown Court, the group were given sentences ranging between two years and four months to four years in prison.
The court heard the trouble coincided with riots taking place across major cities in England at the time.
Two police officers had lumps of concrete thrown at them after encountering the group of 12 men and boys in St Ann's at 19:50 BST.
'Moronic and senseless'
A police helicopter then tracked the group across Mansfield Road and through the city's Arboretum Park.
The group smashed car windows as they moved through the city and threw rocks at officers who were forced to take cover.
Eight members of the group then tried to get away by climbing onto the roof of Nottingham Girls' High School.
After a one-hour stand-off all eight were detained. Another group member was arrested nearby.
The five men pleaded guilty to violent disorder and four boys, aged between 15 and 17 admitted being involved in the disorder.
Ringleader Tyrell Shannon, 20, of no fixed address, was sentenced to four years in jail after also admitting to being involved in disorder the night before.
Brothers Callum and Quamai Nugent, 23 and 19, of Warton Avenue in St Ann's, were both jailed for two years and eight months.
Asha McDevitt, 19, of Markham Crescent, Sherwood, was also jailed for two years and eight months.
Clive Morris, 22, of Meadow Lane, Chilwell, was given a two year and four month sentence.
The four boys are due to be sentenced on 22 June.
The judge described the disorder as "mindless, moronic and senseless" but conceded it was not on the same scale as the riot which led to the firebombing of Nottingham's Canning Circus police station.
Det Supt Dave Prest, who led the investigation, said: "These individuals met up during the evening of 9 August, armed themselves with rocks, bottles, bricks and lumps of concrete and began to throw them at officers who were both on foot and in vehicles.
"They had no regard for anyone other than themselves."