£360m Nottinghamshire dualled-route scheme opens on A46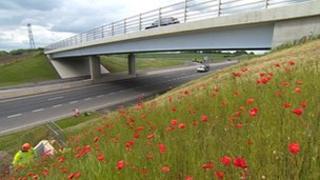 A new £360m dual carriageway in Nottinghamshire has been officially opened.
The Highways Agency hopes the completed 17-mile (28km) A46 Newark-to-Widmerpool route will reduce congestion and provide a new fast link between the A1 and M1.
New bypasses have also been built for Farndon and East Stoke and eight split-level junctions have been created.
The project began in 2009 after years of campaigning by road safety groups.