Toot Hill pupils 'stabbed with medical instrument'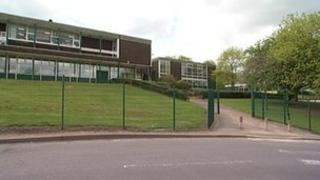 A 14-year-old boy has been arrested over claims at least 20 school pupils were stabbed with a medical instrument.
It is believed to have happened during lunch break at Toot Hill School in Bingham, Nottinghamshire, on Wednesday.
The Health Protection Agency (HPA) said there was a low risk to pupils affected, but some children have been tested for infections as a precaution.
The school said pupils were stabbed with a lancet, but police believe a diabetic pen was used.
The 14-year-old, arrested on suspicion of assault, has been released on police bail.
'Get a reaction'
Head teacher John Tomasevic said: "From what we can tell at this moment in time, evidently we are still investigating it, it wasn't malicious
"It was more in fun and trying to get a reaction.
"A student got hold of a lancet and he went around pricking a number of other students in his immediate friendship group and wider than that.
"We found out about the incident towards the end of the school day and as a precaution we advised all parents to take their child to the hospital just for tests and just to make sure everything would be safe and secure for their child."
Mr Tomasevic said the instrument used was a lancet with an 8mm blade, however Nottinghamshire Police believe a diabetic pen was used.
The school said it was aware of 20 pupils being stabbed in various places around their bodies, but said more pupils could have been affected and asked them to come forward.
Nottinghamshire Police said the parents of about 26 pupils thought to be affected have been informed and some have sought medical advice.
Dr Vanessa MacGregor, consultant in communicable disease control at HPA East Midlands, said: "No-one was seriously injured, but there is a very small risk that a BBV [bloodborne virus] could have been passed on to others who were pricked with the same needle."