Nottingham chef bakes Euro 2012 custard cream trophy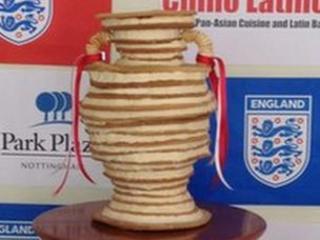 A Nottinghamshire chef has baked a huge custard cream biscuit in the shape of the UEFA Euro 2012 trophy.
Paul Thacker and his team from Chino Latino restaurant in Nottingham created the 15kg (33lbs) trophy-shaped confection in 10 hours.
The biscuit will be auctioned on eBay and the proceeds donated to the East Midlands homeless charity Framework.
In 2010, he baked the world's largest custard cream biscuit - measuring 59cm by 39cm (23ins by 15ins).
Mr Thacker said: "We have chosen to replicate a Euro 2012 trophy and it is in excess of 15kg (33lbs) and is more than 60cm (23.6in) tall.
"It is very big and very sweet ... and it smells absolutely gorgeous."
The world's largest custard cream baked two years ago weighed 15.73kg (34.7lbs) and was completely edible.
It took more than 11 hours to create and was later sampled by 150 people.
The biscuit was auctioned for £410 and the money donated to Framework, which provides housing to homeless people in the East Midlands and Yorkshire.