Andrew Kemp jailed for Colwick jealous rage murder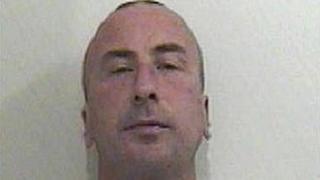 A Nottinghamshire man who stabbed his girlfriend to death in a jealous rage has been jailed for life.
Andrew Kemp, 48, repeatedly knifed Leighann Wightman, 24, at her home in Norman Street, Netherfield after she sent texts to his friend.
Nottingham Crown Court heard Kemp, of Vale Road, Colwick, admit the killing, on 15 October 2011, but denied murder.
A jury took less than two hours to convict him and he was ordered to serve a minimum of 22 years.
The trial heard Kemp was given a restraining order after assaulting Ms Wightman months before her death.
Screams heard
However, both of them ignored the order and stayed in regular contact.
The jury was told that shortly before the attack Kemp had been drinking with a friend called Lee Brown.
Mr Brown showed Kemp a text message he received from Ms Wightman, in which she asked him "Are you free?" and suggested "We could do something".
After Kemp went to Norman Street, neighbours heard screaming and Ms Wightman shouting "Get off me" at least twice, the court heard.
Kemp told the court Ms Wightman tried to stab him first, and he was frightened and lost control.
Judge John Stokes said: "This is, as murders go, in my judgement, a truly terrible crime. There was no need for it to happen at all.
"I am satisfied that you killed her after forcing your way into the house. She picked up the knife to defend herself, you grabbed it and you pursued her round the house, stabbed her and left her to die."
When the tariff of 22 years was announced there was a loud cheer from the public gallery.
After the verdict police revealed Kemp had a history of violence spanning more than 27 years.
Det Ch Insp Tony Heydon described Ms Wightmann as "vulnerable" but admitted she was "besotted" by Kemp.
"I am pleased that the jury recognised that by Kemp breaching the restraining order and forcing his way into Leighann's home, he had every intention to hurt her. Leighann was in bed asleep when he arrived and you can only imagine the fear that she will have experienced," said.
"Nottinghamshire is a safer place with people like Andrew Kemp behind bars, but the verdict today doesn't bring Leighann back. Her family are devastated by her death."
Kemp had previously been on trial over the murder of 64-year-old Nora Smith in Falkirk.
He walked free from court in 1993 after the jury returned a not proven verdict.
Mrs Smith's family was in Nottingham Crown Court to see him convicted of Ms Wightman's murder.