Nottingham Lenton flats fire could cost six figures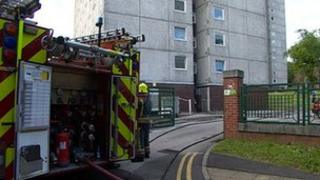 The bill for dealing with a fire and evacuation at a block of flats in Nottingham could reach six figures, officials have admitted.
About 80 residents were forced to leave the 17-storey building in Lombard Close, New Lenton, on Monday afternoon.
A suspected power surge means wiring throughout the flats - which are due to be demolished as part of a regeneration scheme - must be repaired.
Nottingham City Homes said residents are unlikely to return this week.
The fire started in a basement area and while some flats were affected by smoke, no-one was hurt.
'Diamond drills'
However the electrical system to the building - and some services to nearby blocks - were damaged.
Martin Valentine, from Nottingham City Homes (NCH), said: "We have some diamond drills in, which are having to drill through 17 floors of concrete because Western Power Distribution company have to route new power cables through the whole building.
"To do that you have to drill great big holes which is a messy operation and you can't be doing that with people in the block."
Residents have been placed in hotels but Mr Valentine said these rooms were booked up for the weekend so if repairs have not finished people would have to be moved, adding to disruption and costs.
"We don't know the whole costs yet, it might stretch to as much as six figures - it is not a cheap operation."
The bill will be met by Western Power Distribution, insurance and council contingency funds, Mr Valentine added.
The blocks in Lenton are part of a major regeneration scheme which will see hundreds of 1960s houses cleared.
NCH said despite the flats being earmarked for demolition they were still homes for the time being and needed to be maintained.