Nottingham police station firebomb youths sentenced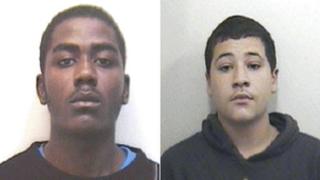 Two youths have been sent to a young offenders centre for their parts in the petrol bombing of a Nottingham police station during last summer's riots.
The Canning Circus station was attacked by a gang on 9 August following disturbances across England.
Keenan Bispham, 16, and Romario Watson, 17, both from Nottingham, have been sentenced to a 12-month detention and training order at the institute.
Fourteen other people were sentenced on 1 June at Nottingham Crown Court.
'Cannot be tolerated'
Bispham, of Collison Street, Hyson Green; and Watson, of Beckley Street, Broxtowe, were found guilty of rioting in May.
Judge Michael Stokes QC said: "When an offence of this nature takes place it is essential that even 16 and 17-year-olds appreciate the certainty of custody.
"This sort of violence… when the attack was premeditated and directed at the police in particular… cannot be tolerated."
In June Lance Francis, 25, received the longest sentence of 14 years after being convicted of riot and arson with intent to endanger life.
Reiss Wilson, 21, was jailed for 12 years after admitting riot, perverting the course of justice and arson being reckless as to whether life is endangered.
Curtis Dejean, 19, was detained for 10 years in a young offenders institute after admitting riot, arson being reckless as to whether life is endangered and possession of explosives.
Eleven others involved in the same incident also received sentences of up to five-and-a-half years at Nottingham Crown Court.
The judge praised Nottinghamshire Police for their actions in tackling the rioters.