Nottinghamshire police horses face savings axe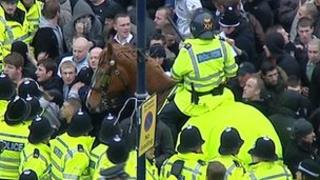 Nottinghamshire Police's mounted section could be disbanded to cut costs.
The unit, made up of seven horses and seven staff, is most commonly used for crowd control during major public events.
The police authority said the force was facing more than £40m of cuts in four years and getting rid of the horses would save £93,000 a year.
But ex-authority chairman John Clarke said the move was a false economy.
"They have millions to save and this is a drop in the ocean," Mr Clarke said.
"It is a small unit but an essential unit. Without it there is no cover from South Yorkshire to Thames Valley - we need those horses."
A spokesman for the authority said: "In these difficult financial times the force has reviewed all areas of business to identify efficiencies in a bid to meet the savings gap.
"As a result of this work, a report on the mounted section will be presented to the full police authority for consideration when it next meets on 27 June 2012.
"We should stress that no decisions have been made and clearly it would be presumptuous to speculate on the outcome of that debate."
This is the third time the mounted section has faced the axe but it has twice been reprieved.