Radcliffe-on-Trent burglary victim given wheelchair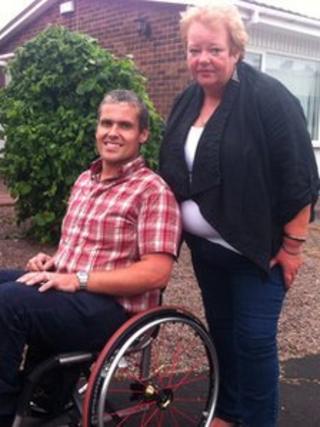 A member of the public has stepped in to help a disabled Nottinghamshire man whose car containing his wheelchair was stolen in a burglary.
Matt Huckerby, 37, from Radcliffe-on-Trent, was left devastated following the theft on 21 June.
After hearing news of his plight Pauline Massie offered a new wheelchair worth around £2,000, which she has had in storage for two years.
Mr Huckerby said the act had restored his faith in people.
Mrs Massie, who runs a house clearance company, heard Mr Huckerby's story on BBC Radio Nottingham, on Tuesday.
Thieves stole Mr Huckerby's Mazda 5 Takara car following a break-in at his house overnight on 21 June.
The missing wheelchair is a blue Kuschall K4-series model.
Anyone with information about the theft has been asked to contact Nottinghamshire Police.