Olympic torch: Ethiopian boy goes missing in Nottingham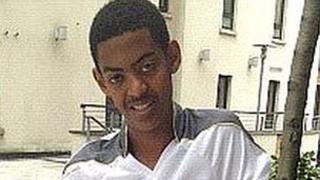 An Ethiopian teenager who was part of the Olympic torch relay has gone missing from a hotel in Nottingham.
Natnael Yemane, 15, was a torchbearer as part of an official international programme team as the relay entered the city on Thursday.
Police said he left the Jurys Inn, Waterfront Plaza, at about 21:15 BST and did not return.
Officers added they were concerned for his well being as his English is limited and he is not "street-wise".
The teenager is described as black, 5ft 8ins (1.73m) tall, and of thin build.
He has cropped Afro hair and was last seen wearing faded dark jeans, a green and yellow camouflage hooded jacket and black trainers with a white stripe.
He was one of 20 young people selected through Locog's International Inspiration programme who ran in two teams on Thursday.
One torchbearer was selected from each of the 20 countries which are part of the programme, from Azerbaijan to Zambia.
International Inspiration is London 2012's international legacy programme which provides sport and play opportunities to more than 12 million children in 20 countries around the world.
A London 2012 spokesperson said: "A young boy of 15 has gone missing and clearly this is of great concern to us. Everyone is doing all they can to find him and make sure he's safe."
She added: "Each one of the 20 young people was accompanied by their own chaperone and every possible step was taken to ensure their whereabouts were known at all times whilst they were in the country."