Rare small ranunculus moth spotted in Nottinghamshire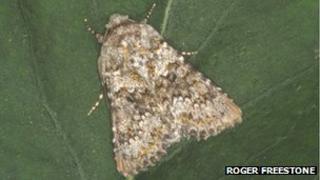 Wildlife experts are urging people in Nottinghamshire to be on the lookout for a rare moth, once thought to have disappeared entirely from the UK.
Nottinghamshire County Council's wildlife team said the small ranunculus moth had been spotted in Beeston Rylands, Wollaton and West Bridgford.
The sightings were reported between 2009 and 2011 but all were in late June or early July.
The moth is thought to have disappeared from the UK prior to World War II.
Lettuce fan
Nick Crouch, nature conservation leader at Nottinghamshire County Council, said: "The small ranunculus moth is recognisable by its intricately mottled grey, black and gold colours, although it can be mistaken for other, more common species.
"All the occasions they've been spotted in Nottinghamshire have been late June or July, so I'd encourage people to keep and eye out for them and to report any sightings to the Nottinghamshire Biological and Geological Records Centre."
It is thought the moth has been attracted by brownfield sites such as quarries and disused railway lines which typically hold plants that the moth's larvae feed on.
But all four reported sightings in Nottinghamshire have been in private gardens, where it is thought to be feeding on cultivated lettuce.
The moth did reappear in the south-east in the late 1990s but was recorded in Nottinghamshire for the first time in 2009.