Lenton garage fire: 40 are evacuated and bridge 'damaged'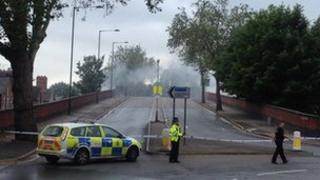 Fire crews say they will remain on site "for the rest of the day, and possibly overnight" on Monday following a fire at a car garage in Lenton.
Police said around 40 people were evacuated from their homes because of gas canisters stored at the garage.
Nottinghamshire Fire and Rescue also said there was "some structural damage to Abbey Road Bridge".
The fire service said it was called to the garage in Hungerton Street just before midnight on Sunday.
Police said the evacuated residents stayed with family and friends or at a nursery in Chilwell Street in Lenton.
Incident commander Vic McMillen said: "At this stage we're not sure what the cause of the fire is.
"There are some fairly hazardous items involved. We had to shut the bridge and suspend the network rail transport temporarily.
"Structural engineers will be making further investigations, and we still have firefighters in the zone.
"We won't be able to open (the bridge) until we've taken advice."