Council wants to buy Mansfield General Hospital site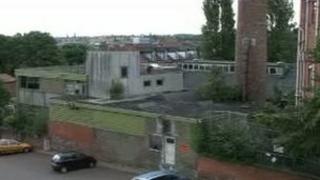 A council plans to buy the site of a Nottinghamshire town's former hospital which it describes as "a blot on the landscape".
Mansfield District Council said purchasing land housing the former General Hospital, off West Hill Drive, would help speed up its redevelopment.
The site, which houses a variety of old hospital buildings, has been disused for nearly 20 years.
The council said the current owner of the land was unlikely to develop it.
A feasibility study into uses for the site will now be carried out using £25,000 from the council's 2012/13 budget.
'Resolving the problem'
The authority said planning permission for apartments on the site had been given in December 2005 but no development had taken place since, aside from minor drainage work.
Councillor Martin Lee, who put forward the motion to buy the land, said: "For too long, the site has been a blight on the community.
"I have serious doubts whether the current owner has any intention to develop the site. I believe acquiring the site is the best way to deal with this blot on the landscape.
"I recognise all of this will take time and that the council must take into consideration the financial and legal position, but this motion is the first step to resolving this problem."
Executive mayor Tony Egginton said: "The council has made many efforts over the years to deal with the problem of the General Hospital site.
"We will continue to move forward to solve this issue to the satisfaction of everyone."