'Flurry' of entries for Great Nottinghamshire Bike Ride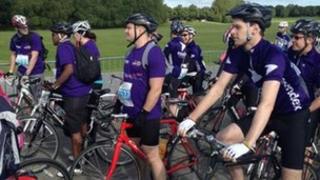 A sudden "flurry" of people entering the Great Nottinghamshire Bike Ride is down to "glorious weather", according to organisers.
More than 4,000 cyclists were expected to take part in the event as part of a new three-day cycling festival.
Cycle Live said it had seen a range of bikes, including a tandem registering for routes on Sunday.
It said cyclists had had set off on four routes from the Embankment in Nottingham.
These were a 100 mile (161km) and a 48 mile ride (77km), a 19 mile (31km) challenge, and a three mile (5km) route around the south side of the city.
BBC Radio Nottingham's Mark Dennison, who took on the 100 mile ride, said: "It's bound to be a challenge, but rewarding to cycle through Nottinghamshire's wonderful countryside."