Nottingham Old Market Square 'beach' opens after delay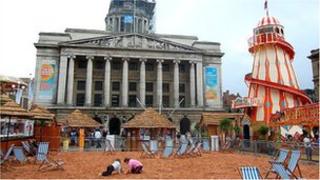 An annual urban beach in Nottingham city centre has opened after a 24-hour delay due to the wet weather.
The Nottingham Riviera, in Old Market Square, includes 260 tonnes of sand, a giant splash pool and fairground rides.
Nottingham City Council said a decision was taken to delay the opening to ensure the site was completely ready to open to the public.
The fourth mini seaside resort event, which will include live music, will run until 28 August.
There will also be children's events, touch rugby, beach volleyball, football and craft workshops.
Event organiser James Mellors said the rain has been causing them "major concerns" for all events planned for this year.
"We're an outdoor entertainment business and the wet weather is a major factor in everything we do," he said.
"So many events have so far been cancelled because of the wet weather."
The city has hosted similar beach events over the years, the first took place in 1991.