Nottingham cancelled operations total more than 3,000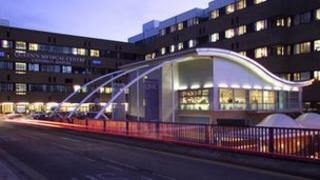 More than 3,000 operations were cancelled in Nottingham during the first six months of this year, an NHS trust has said.
In May, Nottingham University Hospitals apologised after revealing at least 500 operations were cancelled on the day of surgery between January and April.
Now it has released a new six-month total which includes operations cancelled before the day of surgery.
It revealed there were 3,283 cancelled operations in the first half of 2012.
The trust said it had taken the unusual step of publishing its total number of cancellations to show people a "fuller" picture.
The total number of operations cancelled on the day of surgery was 742 with a further 2,541 operations cancelled before the day.
'First in country'
It said the problems had been caused by "unprecedented surges" in the number of emergency department admissions during the winter.
In response, the trust said it had increased the number of beds and taken on extra staff which was already helping to improve the situation.
It said this would continue in the coming months and it would also be identifying new ways of working and restructuring some wards.
Chief executive Peter Homa said: "Hospitals routinely publish on the day cancellations of planned operations. This winter we had more such cancellations than similar hospitals.
"But NHS hospitals also cancel some operations earlier than on the day. These numbers are not routinely collected or made available but give a much fuller account of cancelled operations.
"To allow us to learn from and share this information we have looked at all of our cancelled operations since January 2012.
"We believe we are the first NHS trust in the country to adopt this approach."