Nottinghamshire Gay Pride event takes place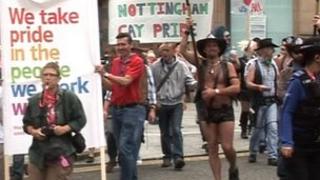 A Gay Pride parade has taken place in Nottingham as part of a weekend of events to celebrate progress in gay rights.
About 2,000 gay, lesbian, bisexual and transgender people and supporters marched from Old Market Square to the Forest Recreation Ground.
The two days of speeches, music and entertainment are expected to be attended by about 30,000 people.
Organisers said it was a celebration of how far the gay community had come.