GB gymnastics medal: Sam Oldham celebrates 'dream' bronze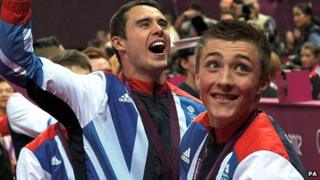 Medal-winning Great Britain gymnast Sam Oldham has described his team's bronze at London 2012 as "a dream come true".
The 19-year-old, from Keyworth, Notts, was the youngest member of the first British men's gymnastic team to win an Olympic medal since 1912.
His success has come five years after he moved away from his family home at the age of 14 to join the Huntingdon Gymnastics Club in Cambridgeshire.
His rise to prominence has also seen him overcome several injury setbacks.
A promising footballer at the age of 12, Oldham was on Notts County's books and had offers from Derby County and Nottingham Forest before he decided to turn his back on football and concentrate on gymnastics.
After relocating to Cambridgeshire he was taken to watch the Beijing games in 2008 to give him a taste of what the Olympics were all about.
He progressed through the junior ranks to become a member of the senior British team at the World and European championships in 2011.
However, a two-month lay-off last December with a stress fracture of his collarbone and torn pectoral muscle put his chances of Olympics selection in doubt.
He overcame the injuries and was picked for the squad. Now he has now taken his place in history alongside team-mates Louis Smith, Kristian Thomas, Max Whitlock and Dan Purvis.
He said: "This really is a dream come true. We've been working so hard for so many years.
"To repeat what we did in qualifying is unbelievable. We've been amazing today."