Clifford Collinge murder: Wife jailed for 23 years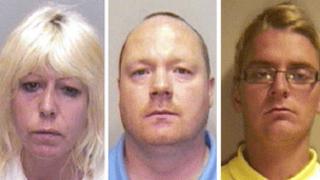 A woman who lured two men back to her house with promises of sex and convinced them to murder her husband has been jailed for life.
Clifford Collinge, 61, of Market Warsop, Nottinghamshire, died in October 2011 after suffering 46 injuries in a savage attack.
Charlotte Collinge, 45, was jailed for 23 years at Nottingham Crown Court.
Steven Shreeves, 40, and Kelvin Dale, 27, both of Market Warsop, were each jailed for 18 years.
'Wilful and manipulative'
Sentencing the trio, Mr Justice Colman Treacy said: "The killing of Clifford Collinge in his own home was a truly shocking offence.
"On the evidence I have heard, I'm satisfied he was a man who offered no harm to any of you and who indeed had, over a number of years, tolerated the wilful and manipulative behaviour of an unfaithful wife.
He said one of the motives must have been for financial gain and Collinge's strong desire to be "out of her marriage and rid of him".
"You were the instigator of this offence. You had considered the killing of your husband for your own selfish reasons."
The jury heard Collinge had met Shreeves and Dale at a local bar and taken them back to her home on the promise of sex to kill her husband.
A clamp was used to attack Mr Collinge, a former newsagent, who was found lying in a pool of blood at his home.
Ahead of the killing, Shreeves and Dale snorted cocaine in the toilets of the bar and drank a number of pints of beer, the court was told.
Giving evidence, Shreeves said he had never met Collinge before the night of the murder and she had started flirting with him as soon as he arrived at the pub.
Among his many injuries, Mr Collinge suffered a head injury, fractured ribs and a collapsed lung.
Justice Treacy said: "He would have lingered, fatally injured, for at least 20 minutes in severe pain, struggling for breath and unable to get help."
He added there was a clear intention to kill "born out of the ferocity of the attack" but that there was little pre-planning involved.
The court heard the couple, who had been together for 17 years, had had a rocky relationship peppered with break-ups and reconciliations.
Robert Proud, 36, from Greendale Close, Warsop, was found not guilty of murder.