Sign Radio Nottingham's good luck card for Rebecca Adlington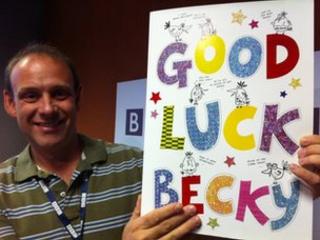 BBC Radio Nottingham has commissioned a special Good Luck Becky card so supporters in Nottinghamshire can send their best wishes to Mansfield's Rebecca Adlington ahead of the 800m freestyle final on Friday.
The card is currently in the Rebecca Adlington Swimming Centre and will be in Mansfield Market Place on Wednesday from 8.30am for an hour, and then at West Bridgford's Lark in the Park from 11am.
Everyone is invited to write their comments and if you can't make it in person go to www.facebook.com/bbcradionottingham and post your good luck messages.
These will be added to the card which Breakfast Presenter Andy Whittaker is taking to the Olympic Park with his show live on Friday from 6am.
There's also a special swimming show on Friday evening live from the aquatic centre with Mark Shardlow on BBC Radio Nottingham from 7pm.