Mansfield dog walkers warned over blue-green algae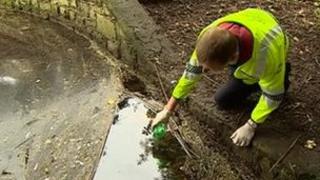 Dog owners in part of Nottinghamshire are being warned to keep their dogs on leads after potentially poisonous blue-green algae was found in two ponds.
Toxins in the algae, which has been found in ponds at Hermitage Local Nature Reserve and Berry Hill Park in Mansfield, can be fatal for dogs.
Sean Davies, parks officer with Mansfield District Council, said signs were being put up to warn visitors.
The toxins can also cause symptoms such as vomiting and diarrhoea in humans.
Dog deaths
Mr Davies added: "It takes very little care to put your dog on a lead, walk quietly and responsibly, enjoy everything there is to enjoy but at the same time avoid the risk that goes with that."
Between 2008 and 2010, ten dogs in Nottinghamshire died after coming into toxins from the algae while out on walks.
Dr Phil Harding from the Environment Agency said the algae was naturally occurring but built up over the summer months.
"They are quite closely related to bacteria and our concern is, that on occasion, they can produce toxins which can potentially cause problems for humans and animals."
The algae should begin to disperse as the weather becomes cooler, Dr Harding added.