Big screen plan for Nottingham Old Market Square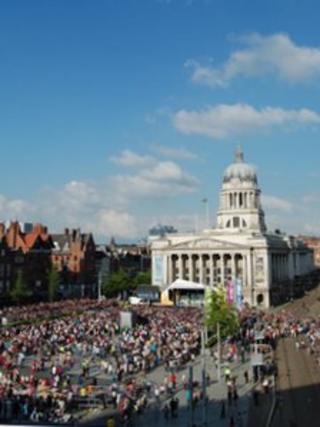 Plans for a big screen in Nottingham's Old Market Square have been submitted to the city council.
Private firm Omentronic said the LED display, measuring 52 sq m (560 sq ft), would show news, weather, sports results, local information and adverts.
The screen would be attached to the roof of the three-storey Market Square House on Beast Market Hill.
Nottingham Civic Society said it was concerned a permanent display would be "inappropriate" for the square.
Omentronic said the screen would operate within agreed hours and time would be set aside each day for the authority and the city's two universities to broadcast their own content.
'Advertising medium'
Sylvia Oates, chief executive of We Are Nottingham Leisure, which represents businesses in the city centre, said the proposal would add "vibrancy, life and excitement" to the area.
She said: "It will support the city's aspirations to make the Market Square a high quality and vibrant heart of a leading European city."
But Hilary Silvester, chairwoman of Nottingham Civic Society, said: "It isn't appropriate looming over what is one of Europe's biggest and most historic squares.
"I'm all for big screens for big occasions but not just as an advertising medium."
The display would be privately owned with no affiliation to the BBC's 23 big screens around the UK.
The planning application will be considered by Nottingham City Council later this year.