National Water Sports Centre bidders shortlisted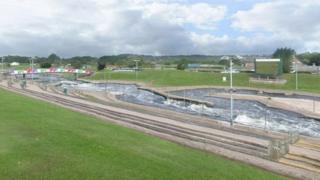 Two bidders have been shortlisted to run the National Water Sports Centre in Nottinghamshire.
The centre at Holme Pierrepont is owned by the county council but was leased to Sport England until April 2009.
The council now runs the centre at a loss, and says private financial support is needed to make it viable.
The preferred private company is expected to be selected in December. The council said it could not divulge the identity of the bidders.
'Don't see the logic'
The centre was not used as an Olympic venue but many Olympians have trained there and moved to Nottinghamshire because of the centre's reputation.
Councillor Keith Girling, chairman of Nottinghamshire County Council's economic development committee, criticised Sport England for withdrawing its financial support.
He said the centre should have been invested in and used as an Olympic venue, rather than building Lee Valley White Water Centre, in Hertfordshire, from scratch.
"In my own view, the amount of capital investment it required would have been a lot less than building a new one and would have created a bigger long-term legacy, and also brought some of the Olympics into Nottinghamshire," said Mr Girling.
"Personally I don't see the logic behind what happened, apart from keeping it down south. I'm quite upset at the fact that we missed out.
"Think of the economic benefits to Nottinghamshire if they had held the water sports here."
Elite athletes
Nottinghamshire County Council announced its intention to run the centre in partnership with a private company in September 2011.
The council said the centre currently cost it £350,000 a year to run, which would increase to £800,000 a year when the contribution from Sport England ended in 2013.
It said it was likely that the private partner would try to make more money by attracting a wider range of users, such as families.
But it said it hoped the private company would invest a significant amount of money so the centre could be developed and continue to be used by elite athletes.
A Sport England spokesman said: "Sport England elected to relinquish the lease and reached an agreement with Nottinghamshire County Council to contribute revenue funding for a four-year period to allow redevelopment plans to be put in place.
"Sport England contributed £500,000 per annum to ensure the centre could continue to operate fully until its redevelopment.
"Prior to relinquishing the lease, Sport England invested £800,000 in improvements to the white water canoe and rafting facility at Holme Pierrepont."