Nottinghamshire mother abseils down viaduct for cancer charity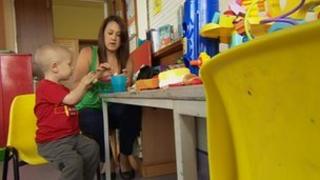 A 37-year-old Nottinghamshire woman has abseiled down a viaduct in the Peak District to raise money for a cancer ward where her son is being treated.
Sophie Maloney's two-year-old son Oliver, who has a rare form of cancer, spent two months at Nottingham's Queen's Medical Centre (QMC) in 2011.
She has already had pledges for a total of £6,000 to create an area where families can eat together at the QMC.
The hospital needs to raise £75,000 for the cancer ward improvements.
'Proper' food
Ms Maloney abseiled down the viaduct at Millers Dale in Derbyshire along with 30 friends and family members.
She said: "When you are in hospital there are not enough facilities for your child to eat properly - you pick from a menu and they have to eat from their beds."
Her son Oliver has a rare tissue cancer called Rhabdomyosarcoma which spread to his hips and lungs.
He has had nine rounds of chemotherapy to help shrink the tumour.
"The children are often hooked up to machines and walking around connected to machines, so if they have an area where they can go and sit with their families and have a normal meal it would be better," she said.
David Walker, paediatric oncologist at the Nottingham University Hospital Trust, said: "Sometimes if you are ill you need a special environment to help you to eat properly, especially if you are having complex treatment.
"We are hoping to create a special area where patients and their family can eat together so they can learn to eat properly while they are having treatment."