Sherwood Forest dirt jump course for mountain bikers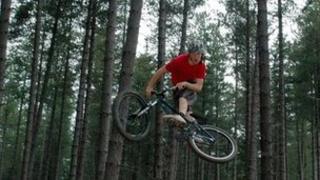 A dirt jump course for mountain bikers has been built in Sherwood Forest.
About £10,000 has been spent constructing the track at a six-hectare (15-acre) site at Sherwood Pines Forest Park in Nottinghamshire.
Forestry Commission recreation manager Chris Bray said the jumps provided "a stunning experience for riders".
The course had been built on a smaller scale three years ago to stop mountain bikers making their own jumps.
Rather than trying to outlaw such "wild jumps", the Forestry Commission worked with bikers to create the new propose-built area.