Paralympic gold postbox painted for swimmer Ollie Hynd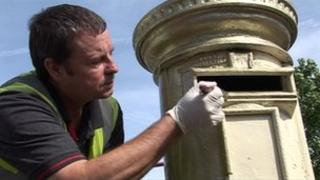 A postbox in Nottinghamshire has been painted gold in honour of Paralympic swimmer Ollie Hynd.
The teenager, from Kirkby-in-Ashfield, won the Men's 200m Individual Medley on Wednesday, securing Great Britain's sixth swimming gold.
The postbox, painted gold by Royal Mail on Thursday, is at the junction of Chapel Street and The Hill.
Royal Mail said its 24th Paralympic stamp, featuring Hynd, was due to be issued on Friday.
Hynd, who has also won silver and bronze at these Games, clocked a European record time of 2m 24.63s to win gold.
The postbox is one of about 80 that have so far been painted gold by Royal Mail in honour of Britain's winning athletes at the Olympic and Paralympic Games.
A woman from Milton Keynes, who has visited 33 other gold Royal Mail postboxes, said the latest was the first one she had seen being painted.
Paula Grant said: "I'm on a gold postbox journey all over the country.
"I've been inspired by all the sportsmen and women. I wanted to keep the great feeling that I got from them going.
"I've found that going round the country, visiting the boxes and meeting inspirational people has given me a great feeling.