Malakai McKenzie shooting: 22-year-old man bailed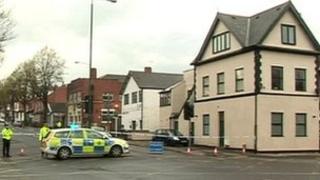 A 22-year-old man arrested in connection with the murder of a Nottingham teenager has been bailed pending further inquiries.
Malakai McKenzie, 19, died in hospital after being shot outside The Hubb public house in Sherwood on 21 April.
Cameron Cashin, 20, Ijah Lavelle-Moore, 20, and Malcolm Vaughan Francis, 18, all from Basford, have been charged with his murder.
The 22-year-old was held on Thursday on suspicion of possession of a firearm.
More than 10 people have been arrested during the investigation and are currently on bail, while one has been released without charge.