River Trent flood defence scheme to open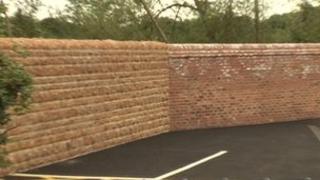 One of the biggest inland flood protection projects in England is opening along the River Trent.
The £45m Environment Agency scheme - originally estimated to cost £51m - will protect 16,000 homes on the river's north bank around Nottingham.
Project manager John Hindle said the "massive" flood defence system, which took three years to build, will stretch 27km (16 miles) along the river.
Flooding in 2000 damaged hundreds of homes and businesses in the area.
The Trent was also hit by flooding in 1947 when 10,000 properties, including Meadow Lane football ground, were affected.
'Foul water'
Mr Hindle said: "After that flooding (in 2000) we looked at the flood defences along the Trent and decided they didn't have the standard flood defences they deserved."
He said the risk of flooding in the area had been reduced to a one-in-100 risk from a one-in-25-year threat from Sawley to Colwick along the river.
Mark Smith, an Attenborough resident who saw flood waters lapping at the edge of his house in 2000, said he was "pleased" with the work.
"Now that it is finished we all feel a lot safer," Mr Smith said.
Another Attenborough resident, Andy Greensmith, said: "We were flooded out of our property for six months and lived in rented accommodation because house was gutted and ground floor was basically… contaminated with foul water and sewage.
"It is a good, positive thing for Attenborough and residents in the village… but we have to wait until we have another period of adverse weather and then we might find out if the flood defences actually hold."