Campaign to save Trent Lane Depot in Nottingham gets boost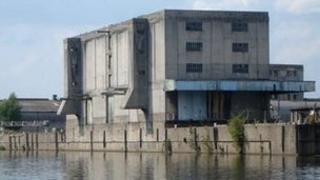 A campaign to save a landmark near the River Trent in Nottingham from demolition has received backing from a national heritage charity.
The now derelict Trent Lane Depot, built between 1928 and 1931, was used as an inland port until the 1970s.
The Twentieth Century Society, which tries to safeguard British architecture from 1914, said the concrete structure was "nationally significant".
The owners have already started to clear the site to make way for housing.
The Homes and Communities Agency (HCA) said the area had been earmarked for redevelopment for more than 10 years.
Graham Dobbs, Head of Midlands North at the HCA, said the agency has looked at converting the warehouses into apartments but it has proved to be impractical.
He added that the main warehouse on the river front is not being demolished in the current programme of site clearance.
Trent Lane Depot, also known as Trent Basin, operated as an inland port where freight like metal, oil and cocoa, was shipped, via the Humber and River Trent, to and from Hull.
The Twentieth Century Society supported the application to list the buildings with English Heritage.
'Grave mistake'
Henrietta Billings, from the group, said: "[We] consider Nottingham's Highway to the Sea, completed between 1928-31 to be a nationally significant, and possibly unique monument to Britain's inter-war shipping industry."
The buildings were also "integral to the understanding development of the River Trent over the Twentieth Century", Ms Billings said.
Chris Matthews, who organised the campaign, said it would be a "grave mistake for Nottingham to bury one of its proudest achievements".
He said he has also discovered unknown graffiti at the site which informed bargeman that the Japanese had surrendered during World War II.
English Heritage have been reviewing the application for listing the building.