Nottingham's Odeon Cinema demolition work begins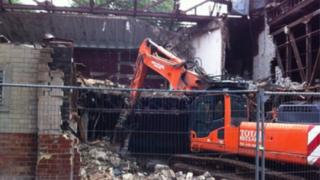 Demolition work has begun on a former landmark Nottingham cinema in which The Beatles once performed.
The Odeon, on Angel Row, became the UK's first twin-screen cinema in 1964 but has been derelict since 2001.
Before being split into two screens, the 1930s-built venue accommodated concerts by the Beatles, Roy Orbison and Buddy Holly.
Developers have been given planning permission to build student flats in its place.
Having first opened as The Ritz in 1933, its auditorium could accommodate 2,500 people before it was split into two screens in 1964.
But television and the rise of out-of-town multiplexes over several decades hit trade and the venue closed in 2001.
Dave Gammon, a former projectionist, said: "It was an absolutely fantastic place. Today is a really sad day for Nottingham.
"I went in recently for a look around and inside it was totally gutted. It was such a shame to see it like that.
"Once I'd seen it in such a state, I knew there was never going to be anything they were going to be able to do to save it.
"It's just a sad day now it's actually happened."