Dance troupe performs on Nottingham canal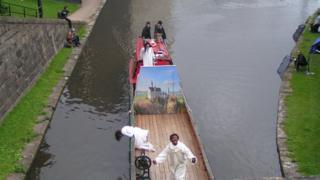 A floating dance and drama production that involves audience members walking along a canal towpath is being held in Nottingham.
The two-day project combines music and dance on a canal boat that "chugs along the canal at four miles an hour".
The performers use the boat as a stage but some actors also stand on the canalside.
The aim is to reveal "the hidden waterway" that runs through the city, organiser Henrietta Hale said.
Drowning deaths
Audience members who walk along the canal during the performances are not charged, but those on the canal boats pay £7 each.
The performances include poetry readings of work by William Blake and excerpts from newspaper reports of deaths by drowning in the canal from centuries ago.
"We want to tap into the way that canals force us to slow down to another pace of activity, just by stepping down from a city environment to the often slightly hidden waterway that passes through beneath," said Ms Hale, from the London-based Dog Kennel Hill Project.
The performances last about 40 minutes and are repeated several times a day.
The TUG project is run by the Dog Kennel Hill Project, Dance4 of Nottingham and Watford Palace Theatre.
Paul Ross, of Dance4, said: "The Nottingham community will be able to come along and not only watch but also have the opportunity to perform amongst some extremely talented artists.''
The production will move to London's King's Cross district and Watford in 2013.