'Taxi' sought after Paul Davis hit-and-run death in 2008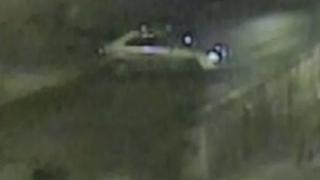 The driver of a car, possibly a taxi, could have important information about a fatal hit-and-run in Derbyshire, police have said.
Paul Davis, 37, from Corporation Road in Ilkeston, was found in the street where he lived on 10 August 2008.
Police are trying to trace the owner of a Ford Mondeo, with logos on the doors, seen on CCTV on the night of Mr Davis's death.
The case was reopened in August after advances in technology.
Derbyshire Police also want to talk to a man shown on CCTV, walking along Hallam Fields Road at 02:11 BST on 10 August 2008.
The man is described as white, of large build, and was wearing a white top.
Ch Insp Steve Wilson said: "Technology has developed over the last four years and we have been able to enhance these two pieces of footage to give us greater detail than ever before.
"I would ask people to search their memories and try to recall what they were doing that evening."
The mother of Mr Davis, Pauline, said: "Paul was a much-loved son, brother and father and we are begging anyone with information to come forward, no matter how small that piece of information may be.
"Our lives have been turned upside down by Paul's death. He was such a great, caring person and our lives will never be the same because of his loss."