Nottingham University questions council's 'green' commitment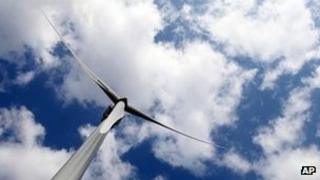 The University of Nottingham has questioned the 'green' credentials of a local council after its plans for a 80m (262 ft) wind turbine were rejected.
The wind turbine was one of three proposed by the university on land it owns, known as Grove Farm.
The university said it hoped to generate enough electricity to meet a third of its annual demand.
Broxtowe Borough Council said it could impact on plans for new houses and the expansion of an enterprise zone.
'Greenbelt land'
A university spokesman described the decision as "extremely disappointing", given the council's position on "promoting renewable energy".
He said: "This was an excellent opportunity for the council to demonstrate its commitment to renewable energy and lend its support for a scheme that has the potential to reduce carbon emissions by 7,000 tonnes a year."
But Councillor Brian Wombwell, who is on the council's development control committee, said the turbine could jeopardise an extension to the enterprise zone, which includes plans from Alliance Boots for 1,150 homes.
The council said it was a better option to develop part of an industrial site than build new houses on greenbelt land.