Nottingham opens first hydrogen filling station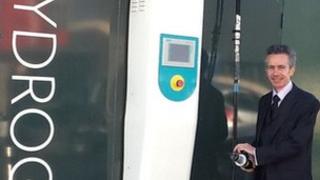 A hydrogen filling station has opened in Nottingham, the first of its kind in the city.
It is part of a £9m sustainable energy research facility at the University of Nottingham's Jubilee campus.
The refuelling stop is one of around 10 facilities across the UK where hydrogen-powered cars can fill-up.
Prof Gavin Walker, from the university, said the technology was important as it will help reduce carbon dioxide (CO2) emissions.
He said: "We want to deliver vehicles that have zero [CO2] emissions. Hydrogen uses a fuel cell to generate electricity that drives motors."
The station will also be used for a small fleet of hydrogen cars at the university to run in connection with its research projects.
Drivers who use hydrogen cars will also be able to refuel at the facility.
The UK's first commercial hydrogen filling station was opened in Swindon in September 2011.