Driver James Storry jailed for Graham Moss crash death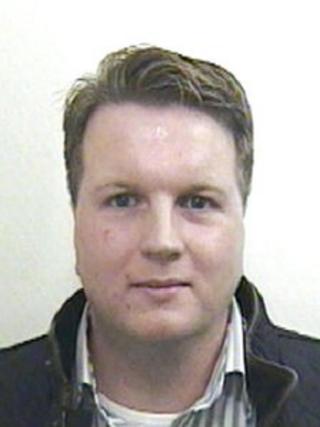 A speeding motorist who tried to blame a tractor driver for a fatal crash has been jailed for four years.
James Storry's Audi S5 was seen travelling at up to 80mph on a 40mph road in Trowell, Nottinghamshire, before striking a tractor and then a Nissan Micra.
The 74-year-old Nissan driver, Graham Moss, died in hospital.
Storry, 31, of Cossall Road in Trowell, was found guilty of causing death by dangerous driving.
Acting Det Insp Ged Hazelwood said Storry had denied responsibility for the collision, "choosing instead to blame other factors for causing the crash".
He said Storry had principally blamed the farmer, "who was wholly innocent and whose driving was totally exonerated by the witnesses".
"This attempt at shifting the blame to the farmer appalled the trial judge," said Det Insp Hazelwood.
Widow seriously injured
The crash happened in Nottingham Road, Trowell on the night of 20 August last year.
Mr Moss's wife was a passenger in her husband's car and she was seriously injured.
Storry had been hosting a party at his home on the evening of the crash.
The court heard he left suddenly to visit another property he owned, after picking up a text which said his burglar alarm was going off.
Witnesses told police they had seen Storry's car being driven at between 70mph and 80mph before losing control and crossing the carriageway.
It then hit the tractor, which was travelling in the opposite direction, before crashing into Mr Moss's car.
Mr Hazelwood said: "The fact is that one person is dead, a widow has been left behind and a man of previous good character is now beginning a lengthy prison sentence because of his driving behaviour."
Storry was also banned from driving for four years and will have to retake his test.