Bingham Costa Coffee petition attracts 900 signatures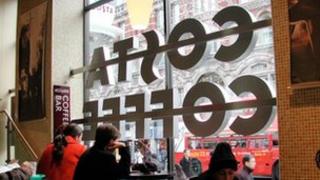 Residents of a Nottinghamshire town are trying to prevent a national coffee chain moving in to their high street.
A petition against the opening of a Costa Coffee in Bingham has been signed by more than 900 people so far.
In October, Costa pulled out of plans to open a branch in Totnes, Devon, after 5,000 people signed a petition against a planned shop.
Rushcliffe Borough Council confirmed it had received a planning application from the company in October.
In a statement, Costa Coffee said it believed people would rather see a vacant building in Bingham become a "thriving local business".
'Muscling in'
Julia Williams, the owner of an independent cafe in Bingham who started the petition, said the number of signatures collected in a fortnight demonstrated a high level of objection.
"Big companies who have the muscle power to command and pay the rents are squeezing the small independents out," said Ms Williams, owner of the Picture Cafe.
"We've already got four independent coffee shops and we felt that once you let the corporates in, you open the floodgates for so many more.
"Suddenly it just becomes another nameless faceless high street like anywhere else in the country," she said.
An online version of the petition has attracted 66 signatures this week.
When Costa reversed its plans to open a branch in Totnes, the company's managing director Chris Rogers said Costa had "recognised the strength of feeling" against national brands in the town.
'Not a threat'
With reference to the Bingham plans, a spokesman for Costa Coffee said: "We honestly do not think that anyone should see Costa as a threat to existing retailers.
"Our offering is very different to local independent coffee shops and cafes and we believe that people can and will use both, depending on their needs.
"However, we would like to point out that this potential site in Bingham is actually in the hands of a local businessman; one of our franchise partners who has invested his own money in the area."
The spokesman added the building had been vacant for two years.
The council said a public consultation on a change of use planning application for retail premises to a cafe and restaurant premises on Eaton Place would be open until 23 November.